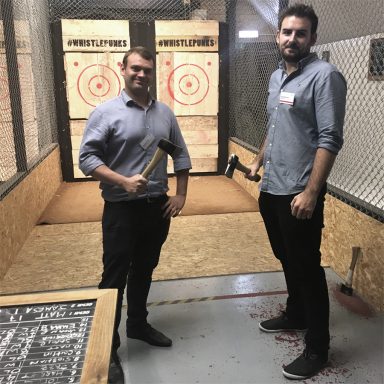 YEP, it's urban axe throwing*
12 October 2017
Peter Dann's finest attended the YEP Sports 'Urban Axe Throwing' social on Tuesday, channeling their inner lumber-thugs as they sought to stick iron in wood.
This proved very difficult; however, out of 30-odd participants from various entrepeneurial orgs, our very own Greg McNamara made it through the FINAL, squaring up to a fellow engineer who, unfortunately for Greg, made the final cut.
Teammates Pedro, Katja and Jovan scored too, with Pedro hitting the bullseye twice.
Technique was obviously a factor, although players with higher scores were noted for their beards/plaid shirts/wild eyes.
*Nobody was hurt, and we recommend Whistle Punks for Halloween.